Monday July 15
Readings – Dive into Inquiry (for the 6-12 educator) & Inquiry Mindset (for the K-5 educator)
Guest – Trevor MacKenzie
Reflections – Trevor presented a good overview of Inquiry-Based Learning and its practical uses in the classroom. That he is both a Master's student and a classroom teacher brings some level of solidarity to his talk. I have not read his Dive Into Inquiry book yet, but again, with someone in our cohort having the book already and referencing it lends more credence to its everyday use. This is not to say that other books are not useful, but knowing someone who has read the book and found it useful is a powerful statement.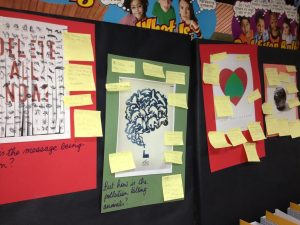 "IMG_1047" by Lindy Buckley is licensed under CC BY 2.0 
I have done guided inquiry with success in the classroom, and will continue to explore how I can use it in other ways, especially in Japanese. As Trevor and most other instructors have pointed out, well-done Inquiry projects are guided, leading to free. There still needs to be checks and balances to keep students to a standard. At the same time, many assignments can incorporate elements of inquiry that allow students choice and acknowledgement of, and nurturing of, their passions.
Tuesday July 16
Readings – The Five R's for Indigenizing Online Learning: A Case Study of the First Nations Schools' Principals Course by Tessaro, Restoule, Gaviria, Flessa, Lindeman, & Scully-Stewart (2018)
Guest – Colin Madland
Reflections – Our two guests – 515 guest, Shauneen Pete, and 568 guest, Colin Madland – provided interesting perspectives on two issues connecting aspects of the Truth and Reconciliation report. As Dr. Pete pointed out, her call to action has been 30 years in the making. Her life's work has been to change how the educational system, mostly centred on post-secondary, has not allowed for a substantive shift in incorporating Indigenous ways of teaching and learning. Colin Madland's research and interests lie in bridging the gap between Indigenous ways of learning versus Online learning. Both guests are asking the question, "How can this be done?" At the heart of both perspectives is the acknowledgement that Indigenous ways of learning are different than the dominant settlers' ways of learning. This does not mean "less than," or that because it is different, that in a win/lose situation, that the Indigenous ways must bow to the dominant culture's ways. So the challenge for Colin Madland is to find a way to blend the venn diagram in a way that keeps the Indigenous ways intact.
Wednesday July 17
Readings – In Public: The Shifting Consequences of Twitter Scholarship by Stewart (2015)
Guest – Bonnie Stewart
Reflections – On the one hand, there are many examples of Twitter gone bad; on the other hand, there are many examples of positive Twitter interactions. The reality is that all social media platforms have their positive and negative aspects. What all users of social media (and commenters of social media) must come to grips with, is that the power is in the hands (or fingertips) of the user. I can't remember who brought up the TV analogy, but those who use or grew up with TV, got used to turning the channel until they found a program or station that they found to their liking, skimming over the "garbage" – or content that they disliked. One may argue that Twitter (and all social media) poses the same problems of navigation. Twitter scholarship can get very divisive and heated, but with the right people and attitude, it can be uplifting and full of growth.
Thursday July 18
Viewing – Education as if people mattered TEDxTalk by Jeff Hopkins
Guest – Jeff Hopkins
Reflections – I appreciated Jeff Hopkins coming to talk about PSII and his background. As I reflected about his talk over the next day, I came to a realization. This is not about the importance or relevance of the school he has set up, because it clearly has exceptional educational practises. This is about how humans receive information. Based on an understanding of human psychology, it is easier to change behaviour than it is to change beliefs. That is, it is easier to change what one does, than what one believes. In light of that, when anyone – and in this case, an educator – talks about a better way to do things, the approach is as important as the information itself. The person receiving that information can absorb the content in one of two ways: one, as a reflection of what he or she does, which can, without much effort, be changed quite easily; or two, as a reflection of who he or she is, or what he or she believes, which strikes much deeper, and is much more difficult to change. If the implied message is, "You are doing things wrong," and the interpretation of that message is about what one does, then the response may be, "I will change my behaviour." However, if the interpretation of that message is about who one is, or what one believes, then the response may be, "I must defend my core belief that I am a good person/teacher." This is a protection of the ego, and it puts people on the defensive. Having said that, this is not an indictment about the worth or credibility of PSII or of Jeff Hopkins as an educator, but rather how he may broach the topic of changing the educational system, especially to teachers who are in the system. His information is valuable and necessary for growth, but as he acknowledged himself, he couldn't affect wholesale change from within the system, which is why he got out. Of course there is no doubt we all came away from his talk with ideas on how to improve what we do.
My apologies for the post with nary an image or video (well, one). I am getting there (I searched the creative commons images and attributed the image! 🙂 ) but my energy mostly went into organizing my thoughts in time to post.